Chorley & South Ribble Breathe Easy Group - 2016
Latest News
Please click on photos to see a larger one
The next Exercise Class will be on Thursday 12th January
The next Group Meeting is on Thursday 26th January - Ann Radcliffe, BLF COPD Specialist Nurse, Adult Community Respiratory Service, Lancashire Care NHS Foundation Trust
Wednesday 21st December - Ten of us went to see the Houghton Weaves at at New Longton Village Hall


Shirley and Harold were out of camera range
Thursday 15th December - For our Christmas Lunch we went to the Ley Inn. Everyone enjoyed themslves but sorry no pictures
Thursday 8th December - Exercise Class
Thursday 24th November - We had a talk by Claire Hooson on Reiki and meditation.


Claire got us to feel our energy and led us in a meditation session which seemed to benefit everyone.
Thursday 10th November - Another enjoyable Exercise Class
Thursday 27th October -The Annual General Meeting.


All officers were re-elected and we struggled with the quizzes Peggy left us.
Thursday 13th October - After our usual Exercise Class Cathy New, Project Development Co-ordinator for National Energy Action gave us an interesting and enjoyable talk on ways of saving energy and help that we could get from the system

Thursday 22nd September - An interesting talk from Mackaela Johnson about Mindfulness breathing


The Committee preparing for the meeting, Mackaela, posing at the start, something really tickled Barbara before Mackaela started

Saturday 17th September - Leyland Mela - We had a stall at the Mela!

Thursday 8th September - Another exercise class which we all enjoyed including new member Enid.
Thursday 25th August - Clare from Lancashire Fire and Rescue Service came to talk to us this afternoon

Thursday 11th August - Another exercise class but there were only three of us plus Cath.
Thursday 21st July -
Thursday 8th July - Exercise class which we all enjoyed.
Wednesday 7th July - Summer Lunch Outing to St. Catherine's Mill

Thursday 23rd June - Wrights fold was closed for the Referendum! We all met at Peggy's where we were given a very informative talk by Katie Merrick of the BLF
Wednesday 15th June - We had a stall in Morrisons, Leyland, to promote the BLF and our Breathe Easy Group


The man in the first phot0 said he'd come and join us but it's September now and we haven't seen him
Thursday 9th June - A hot day and we were all tired so we didn't exercise with much enthusiasm despite Cath's ever hilarious banter.
Wednesday 1st June - We had a special treat today. The Breathe Easy Group from Kirkcaldy were on a visit to Lancashire and were staying at the Best Western Leyland Hotel. They invited us to an evening meal and entertainment with them, together with other groups from the locality. The meal was delicious and the quizzes were amusing and inclusive but the highlight of the evening was an exhibition of highland and slave dances performed by the Kirkcaldy Organiser Agnes' daughter sorry no photos. The only other photos we have are very poor:


Agnes is in the first two photos, the gentleman is from Breathe Easy Southport. The lady in the end one is Agnes' Treasurer and right-hand woman.


In the second photo Rene is trying to hide.
The photos were taken by Michael on Sue's mobile and he couldn't get the flash working.

Thursday 26th May - Sadly the physiotherapist from the Minerva Centre never turned up but we were entertained by Peggy's quizzes.
Thursday 12th May - Another exercise class with the delightful Cath Hopkinson proudly showing us her 2016 London Marathon Medaal and T Shirt.
Thursday 28th April - We were entertained with live miusc by'Trouble at' Mill - an afternoon of acoustic entertainment and and we joined in wit hte choruses and words we knew.

Monday 18th April - Anne, Michael & Sue attended the North West 2016 Breathe Easy Network Day at Leigh.
The Conference was led by Mark, Kevin & Marie from the Liverpool Office.
This year it was all about what our Breathe Easy Groups are/should be like and changes in the guidelines for running a Breathe Easy Group. The rules are being relaxed and becoming more encouraging. The Financial Guidelines are changing, partly because of new laws governing charities and partly to make them easier for groups to administer.
We seem to be doing all the right things. Our group at twenty-five or so members and ten to fifteen regular attendees is around the average size in the North West.
We are having our name changed to Breathe Easy Leyland! It is now believed the Groups should be named after the district they meet in.
We thought when Carole was repositioned that we had no Support Officer but in fact we have, Marie.
Saturday 16th April - Anne, Michael and Sue held a stall at the Preston Mela. Peter and Barbara came to support us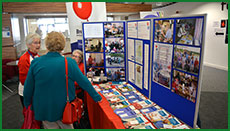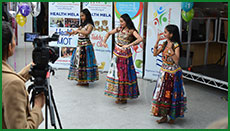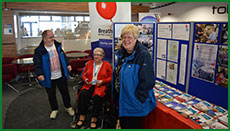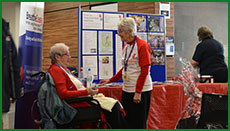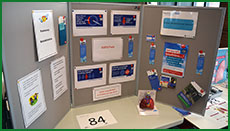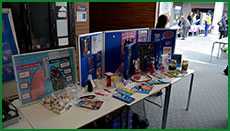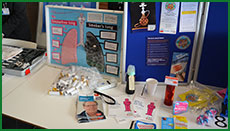 We were positioned at the end of four stalls as arranged by our COPD consultant. The stalls were laid out to start with the causes of COPD and end with the support available to sufferers.Thursday 14th April - Another successful Exercise Class with Cath
Thursday 24th March - Michael gave his illustrated talk 'A walk (virtual) through Cuerden Valley Park' and the members present seemed to enjoy it. In contrast to his previous talk it was rather short but Peggy filled in with quizzes.
Thursday March 11th - Another successful exercise class
Thursday 25th February - Unfortunately Siobhan Moore's mother had died recently and she was unable to give her talk about the Patient Educator Project however Peggy stepped into the breech and gave us many 'Quizzes'. She had us rolling in the aisles with her anecdotes.


Mavis, our Chairperson, arrived a little later than the photograph.
Thursday 11th February - Our first meeting in the new Wright's Fold


Peggy booking in the early arrivals - Sue photographing the new room - All ready for the days' event, which was a Quiz with Peggy as Question Master. As usual we were all baffled by the obscure questions however we know the answers to some of them.
Thursday 28th January - Ed, Peggy's husband, gave a very interesting talk on his allotment, enjoyed by all.
Thursday 14th January - PC Daniel Wood gave a talk on security, scams etc. and his CP colleague explained the new contact system - "In the Know" and held at Susan's