Chorley & South Ribble Breathe Easy Group
Reports of Events
This page is not kept up to date as our events are now reported on the Home page - Please click on icons in the left-hand column for the year you are interested in
Saturday 16th April 2016 - Preston Mela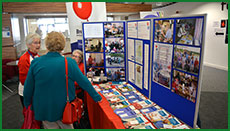 Saturday 18th April 2015 - Preston Mela - our first 'exhibition' for a while

Tuesday 22nd May 2014 - Visit by Lesley McCallion our COPD Nurse

Lesley arrived with her box of equipment and briefly outlined her new situation and handed out an explanatory leaflet . . . .
Thursday 28th November 2013 - Peggy's talk on her life in Scouting.

Sunday 2nd June - The Great Bike Ride was cycled successfully by Michael and Peter with encouragement and help by Cath, Steve, David, Elaine and Ruth, Cath's husband and their friends.
Thursday 25th April 2013 - Line Dancing
Thursday 26th January 2012 - The 2012 AGM
Thursday 27th October - . . . . There were twelve of us gathered to listen to Sue Lewis of Central Lancashire NHS telling us all about the Expert Patients classes that she organises in our locality. . . . .
Thursday 28th July - Our summer lunch at the Golf Club. Vic suggested this restaurant because of its lovely setting . . . .
Thursday 30th June - Back to normal this week, if that's possible with us lot! Twelve members turned up. Anne had arranged that after our welcoming refreshments and socialising we .....
Thursday 16th June - Today we held our second 'Awareness Day' in Morrison's Store at Leyland. Anne and Vic ...
Thursday 28th April - We had special visitors for our 2011 Easter Luncheon .....
Christmas Lunch 2010 at Leyland Golf Club
Wednesday 17th November is World COPD Day
Meet the Experts 15th November 2010 - Vic and Anne attended the Breathe Easy ' Meet The Experts' event at University Hospital Aintree.
Thursday 28th October - Talk by Ernie Walton - British Red Cross
Monday 20th September - Sue and Michael Swarbrick represented the group at the British Lung Foundation - North West Regional Networking Day.
On Thursday 17th June 2010, during the 2010 Breathe Easy week from Monday 14th June to Sunday 20th June, we had publicity event at the Leyland Morrison's Super Store