Last year,2007, we spent Christmas Day at Trudie's and the evening at Steven's. Home
2008
In the new year we went over to Burnley to visit Cousin Dorothy who was up from Devon and staying with her son Paul and his wife Alison.
We became members of the local Wild Life Trust and Friends of Cuerden Valley Park near us. In January we went on our first nature walk through the park with them. A few days later the park was flooded. The River Lostock, the river that eventually flows behind our house, burst its banks producing a lake.
In February Michael went with Steven over to Whitley Bay with a hired van to bring Steven's sister-in-law, Clare, and her children back to Penwortham into temporary accommodation. The trip involved going over Shap and the Pennines. We were extremely lucky as we missed by an hour the blizzard that closed the A66 stranding lots of vehicles and people. Later in the year we moved her to her new home.
We started to get a regular visitor to our back garden, a sparrow hawk, who has started to feed on the bids that we put seeds out for, nature at work.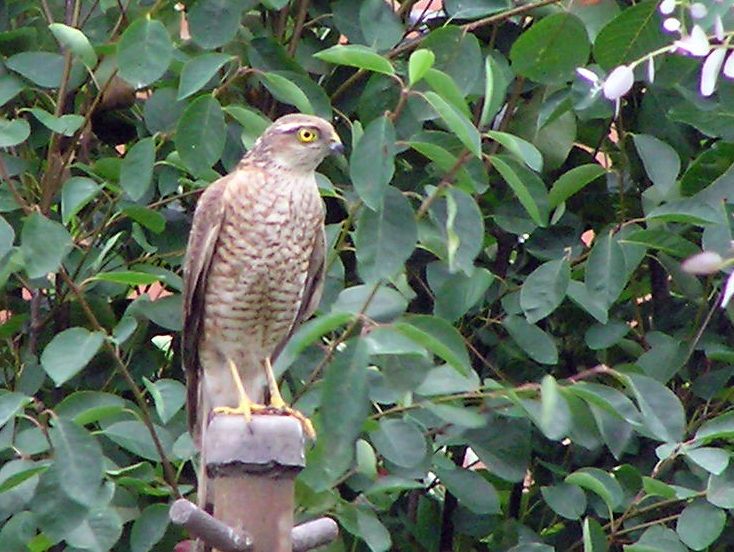 Here he/she is on the washing line post contemplating who to have for lunch?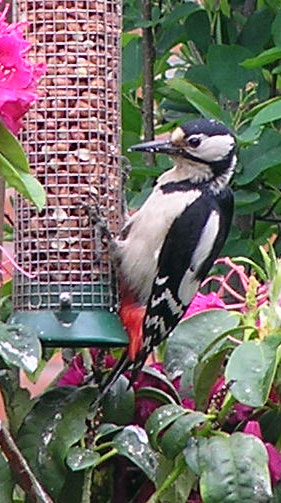 We also had a woodpecker visiting us regularly during the breeding season.
On the 28th Jaja became 9 years old. This year his sailing has come on in leaps and bounds. Michael and Jaja had been racing in the Dart 15 catamaran which we had acquired, old, second-hand, at the end of 2007.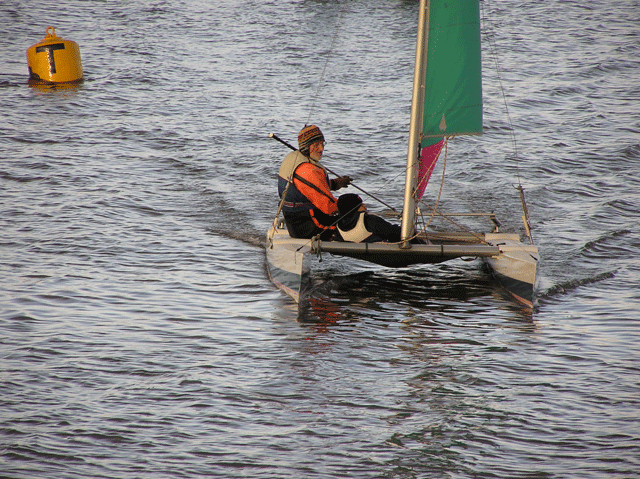 In March we had several more walks through the park, a promising start to the year. We'd also just finished the Carol Vorderman detox diet, a month of sensible eating. Michael did some work for Steven in their new house, well they moved in in May 2007. Cutting down a couple of big Leylandi and sorting out a few flag stones.
April saw us still going for walks in the park. On David's birthday, 15, we went over to Standish and spent the evening with Alex, Damian, their mother and David. Damian came up from London for this happy event and we both took him out for a day to Leighton Moss Nature Reserve just over the north Lancashire border in Cumbria. We were lucky with the weather, it was a lovely day.
We've started painting! Oils. We started going to classes over a DIY shop last year. Sue hasn't had a special mention yet! Obviously she's the king (or Queen) pin of the family keeping everyone well and happy.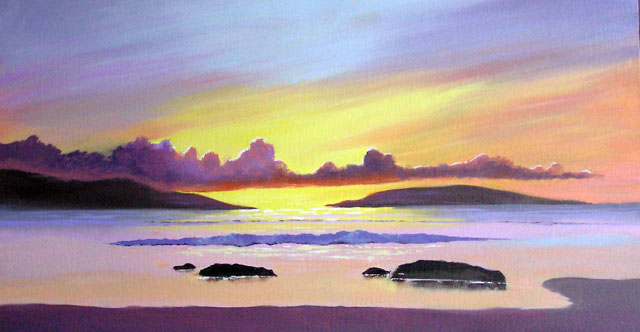 Sue's seascape. This was our fourth painting. Her fifth one is not finished yet: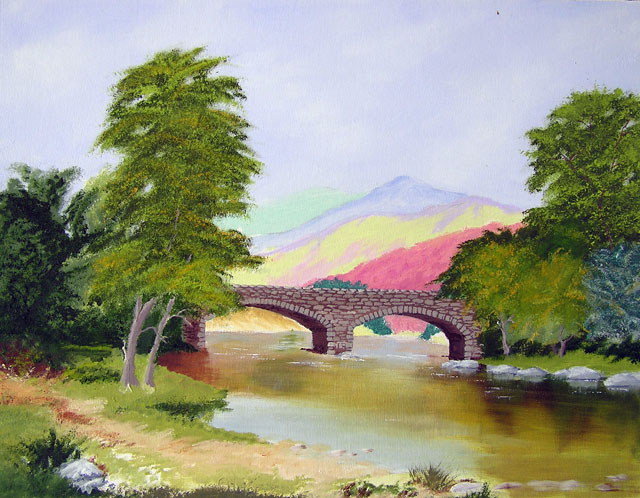 Needs work on background hills and bridge.
The start of May brought a series of anxious times. David walked out of school and refused to go back. Michael got involved in the politics at the sailing club and the effect of the two problems brought on a recurrence of his 'anxiety' and he was rushed into hospital with a suspected heart attack. We had super ambulance men, fortunately we're only a mile and a half from the station and got a lovely understanding Glaswegian doctor. After many tests she pronounced Michael in excellent health but warned him that if he didn't get more undisturbed sleep he could become really ill.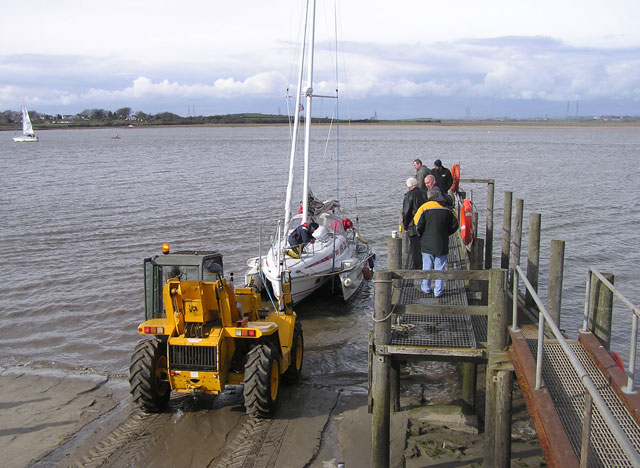 The problem, not quite the tractor the committee approved the purchase of. Mass lynchings attempted followed by resignations. I'd already resigned early over another issue. This tractor, a kind of telehandler, has made launching and recovering of cruisers quick and easy. The boat is a folding trimaran, the sponsons or outriggers wind in and out, here they are wound in. I've been on several cruises in this one.
The problems at the sailing club were resolved at the end of May but they had ruined Michael's refuge. David eventually went back to school but not for long. The A&E doctor wrote to Michael's doctor recommending cognitive behavioural therapy but Michael's doctor refused to agree (It sounded like it would cost him too much). Nevertheless things improved.
In the middle of May we paid our first visit to Dorothy, our cousin, in Stoke Gabriel, Devon. We stayed with her for a week and had a lovely time. We are happy with Dorothy just walking round the village, sitting and talking. Our big day out was a boat trip from Totnes to Dartmouth, spending the day at Dartmouth and returning on the boat at teatime.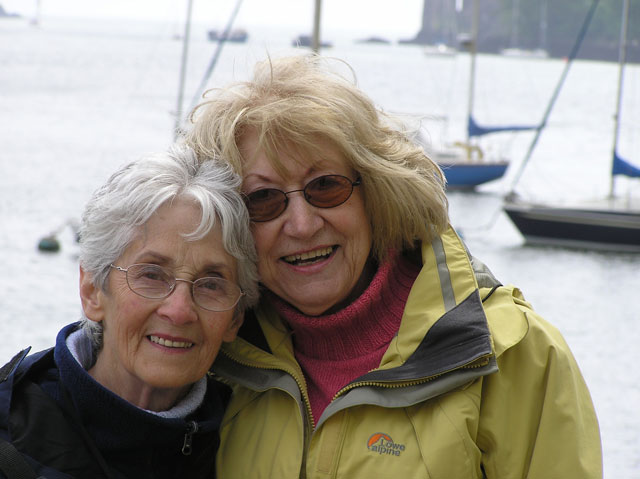 Jaja's football team, Euxton Villa Under 9s, came second in the league and they won the knockout cup.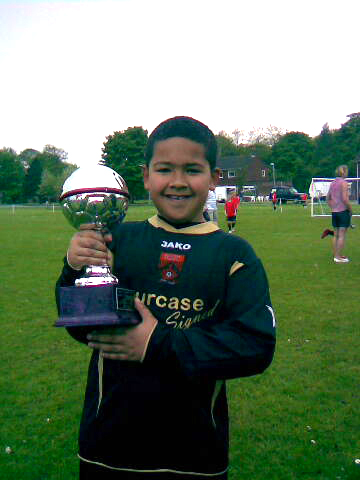 Jaja had a massive disappointment around now: he was dropped from Liverpool F.C. academy. They told him he had to get more experience out of goal, which was a euphemism for telling him he wasn't fit or fast enough.
June arrived with Michael's 70th birthday. No celebrations because he didn't want them – he didn't mind turning 70 but didn't want a fuss.
The middle of June was Cuerden Valley's Summer Fair and we both spent the whole of Saturday 14th helping out. The weather just held up and the event was a success.
The weather hadn't been too bad up to now and we were keeping up with our walking, not too far but enough to keep us in shape.
On the 24th June Sue had her 72nd birthday, which we celebrated with Daphne and Frank in Cornwall, having a pub lunch on the Lizard peninsula.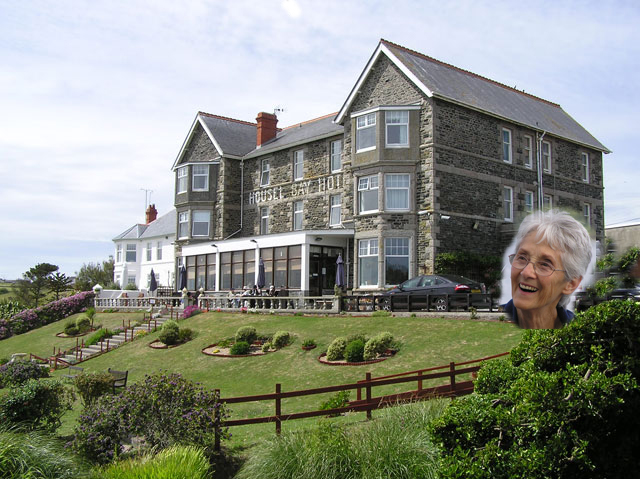 We stayed for a week with Daphne and Frank. Frank says it's his holiday too when we visit them and he likes to go somewhere different every day.
July was a miserable month, rain, rain and more rain. We got out of the habit of walking now.
At the end of July Jaja took his mum and dad, separately, Trudie and Lloyd, out in his Mirror sailing dinghy all on his own. We were delighted.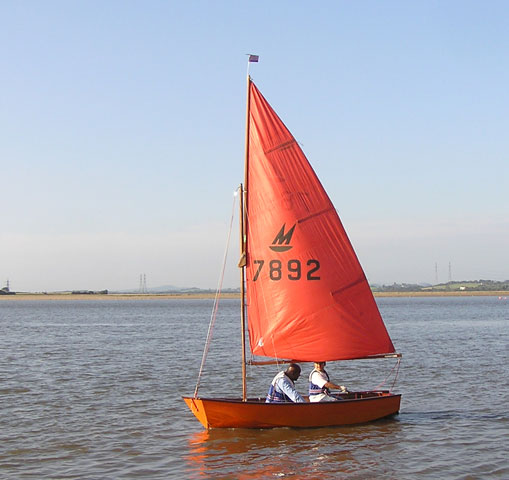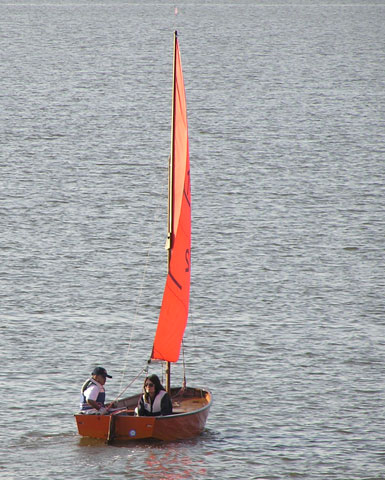 At the beginning of August we spent a week with Richard and Julie at their home in Buckingham before moving on to Devon to spend another week with Dorothy. At Buckingham we visited a couple of National Trust properties while Richard and Julie were at work.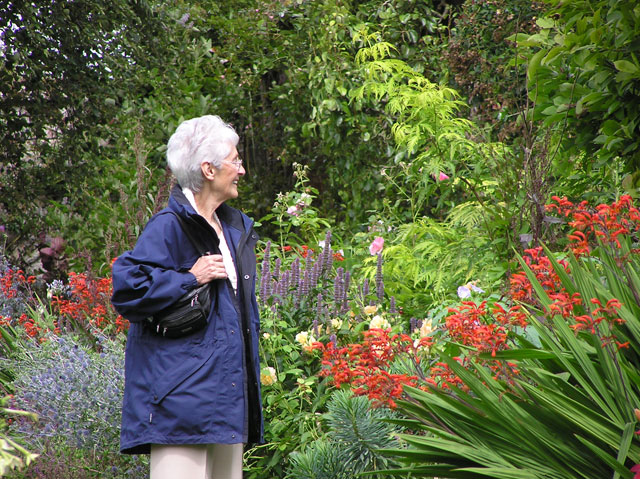 Sue admiring the garden at Claydon Hall.
In Devon we went to Coleton Fishacre, the lovely art noveau bungalow of the D'Oyle Carte family, another NT property. Of all the NT properties we've visited this is only NT property that I could live in. We go to these places because as members we can get in free.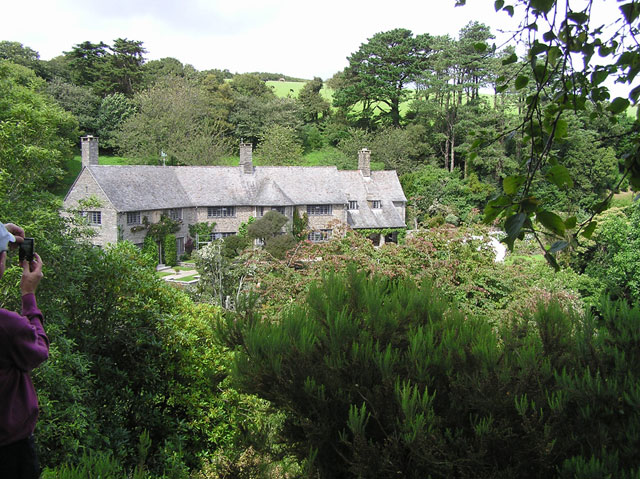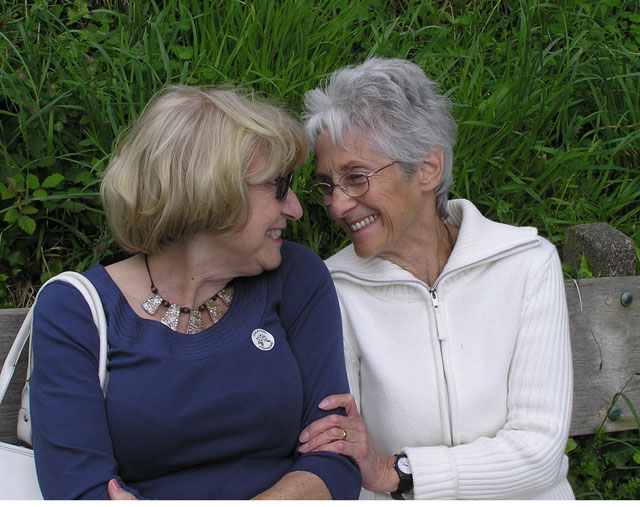 During the third week in August we entertained our nieces Nici and Caz, Richard's children, and their children for a few days, including taking them to the seaside, I think they live as far from the sea as it's possible to be in England at their homes. We all had a lovely time.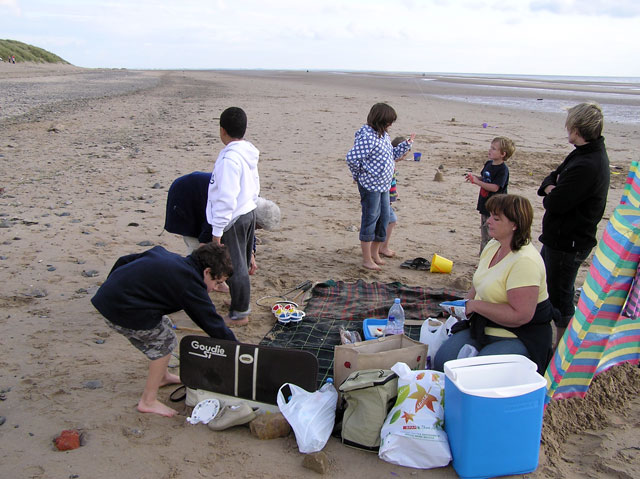 September. Sue went to Bolton to pick David up from his new school, it was his first day. David, he's a gentle lad, thin as a rake but good at his studies, was being bullied at his old school and it had been causing him distress. He'd put up with it for eighteen months but nothing his old school could do could get him to go back. They did their best, David's a model pupil with ability, but all to no avail. The alternatives were not very good but then his fairy-godfather stepped in. Alex has no money, can't work and lived in a council house on benefits etc.. She has a school friend who married into a very rich family. Martin set up a bursary for him to attend the private school, Bolton Grammar, until he got to university! After his first morning he said he couldn't go through with it and refused to go! Fortunately another 'poor' schoolboy has been able to benefit from Martin's generosity.
David is now studying at home at his grandmother's. Alex gave up her house in Standish and has gone to live with her mum in Wigan.
I'd resolved to decorate the kitchen, not been done for many years, at least ten. I managed to start at last and between us we got the walls and ceiling done but still haven't tackled the woodwork. Last year we had all our radiators replaced by one of our sailing club friends.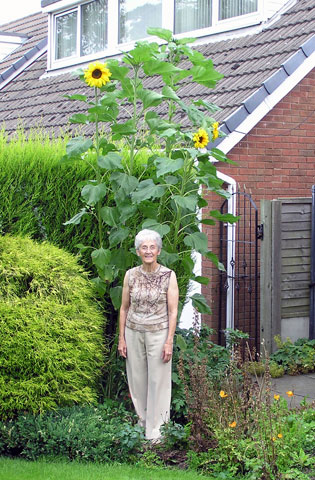 Sue's pride and joy, some self-set sunflowers, overflow from the bird table. The tallest one hasn't opened up yet.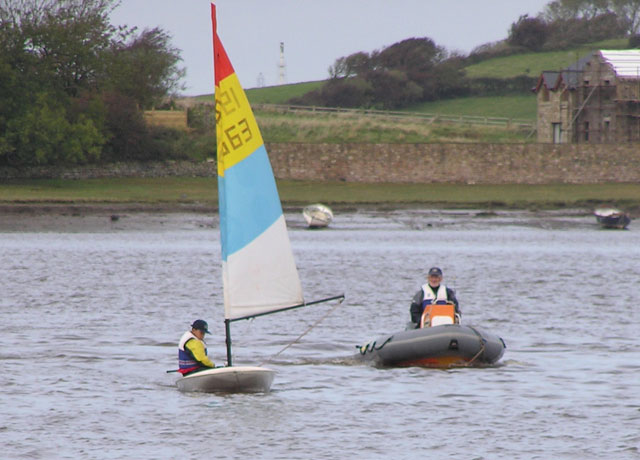 This is in October, Jaja's first solo outing on the Topper, Michael's in the rescue boat.
To be able to cope with Alex, Michael started on an eight week course, one afternoon a week and homework, of Mindfulness Cognitive Behavioural Therapy under the auspices of Central Lancashire Primary Care Trust for Older People, at the top floor of Chorley Library. Sue went on the course too to be able to cope with Michael, Alex and Trudie (who is having financial problems). The course has just finished and it has helped and is helping us both.
We've just taken delivery of two new reclining chairs and two two-seater reclining settees. Our first new suite since we moved in thirty-nine years ago! We've always had hand-me-downs up to now.
We, Sue, Trudie, Jaja and Michael, went to niece Nici's fortieth birthday party in Silverstone towards the end of November.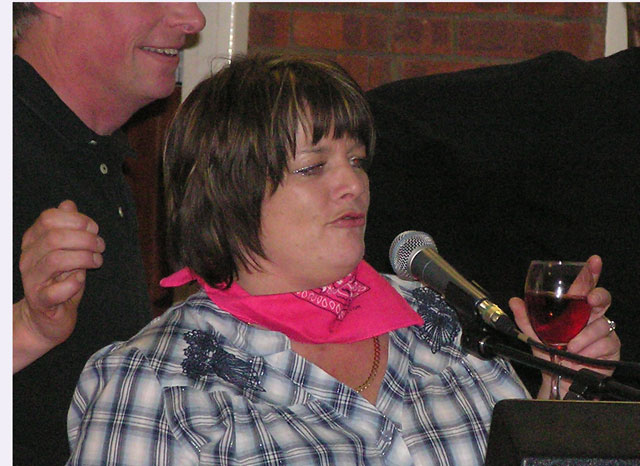 Nici replying to the toast.
She had arranged a Barn Dance, which we all thoroughly enjoyed. The band were great, had nearly everyone dancing! We all stayed overnight at Richard and Julie's
As a result of all the 'politics' at the sailing club Michael gave up lots of his 'jobs'. Out of the blue in the middle of July he got a letter from the RYA (Royal Yachting Association) saying he was to be presented with the RYA Community Award to recognise his Lifetime Commitment to the sport of sailing and that he'd been nominated by our Club. At first Michael thought it was a wind-up but it turned out to be genuine!
On the Friday 28th November we attended a luncheon at One Great George Street, just off Parliament Square, with H. R. H. the Princess Royal and, together with other awardees, she presented Michael with a medallion and a certificate. She's the president of the RYA so it wasn't a royal occasion. We thoroughly enjoyed the day, Sue particularly.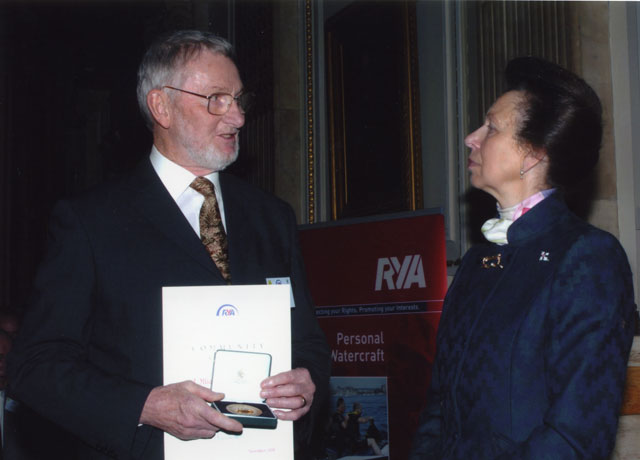 We'd travelled down on the Thursday and stayed with Damian, he lives in a flat in the Camden/Islington area. He met us from the train and made sure we got to the reception on time.
We'll that's our year to date. Sue's busy writing our Christmas cards while I'm writing this.
We're looking forward to Christmas dinner with Trudie and family again and with Steven and Marie's family in the evening.
Hope you have a wonderful Christmas and a fulfilling new year.
A bit of background information:
Steven, the oldest, works as an IT engineer locally – he keeps our computer running.
Marie, his partner, has two jobs. Her main career is as a clerical worker with the NHS at the Royal Preston Hospital but to pay off the mortgage and hopefully retire early, she works in a turf accountants in her spare time.
Trudie the next oldest, works for the police in Fulwood, Preston organising them and doing their clerical work.
Lloyd, her husband, manages a clothing shop in the Trafford Centre.
Jaja is their nine-year-old son.
Damian, twelve days or so younger than Trudie, works on his own as a website creator and part time lecturer in photography.
Alex, fifteen months younger than Trudie and Damian, suffers from bi-polar disease and is a single parent mum, David is her son. She has done very well for the last eleven years but one is unable to disagree with her without being cut off. We believe she has been brainwashed into thinking Michael is a terrible father and doesn't give him a chance. Of course he doesn't put up with any nonsense or humour her. Sue has been brilliant in keeping contact and always being there when Alex needs her.
Sadly she doesn't want to be part of our family – Sue, Michael, Steven, Trudie, Damian and her.
We haven't done anything on the big boat, Tamarisk 24, for over three years now, it's just rotting away. The story so far is on: http://www.naimad.co.uk/jmswarbrick/michael/Tamarisk/Tamarisk.htm