2011
Click on the small pictures to see a larger version The story of our garden this year.
Other years : 2008 2009 2010 2012
January 1st - Happy New Year everyone..
Tuesday January 11th - The first Health Walk of the year from the Sports Centre
Friday January 14th - Today we ventured out to Lytham St. Anne's. We parked the car alongside Fairhaven Lake and walked along the shore to the Beach Cafe for lunch and then walked back to the car.


You can't make out the sea but it just sounded like the motorway! I tell people in Cuerden Valley Park to imagine the motorway noise is the sound of the sea.
Wednesday January 19th - Breathe Easy Committee Meeting - not very good!
Friday January 21st - It was such a lovely day and the forecast for the weekend is miserable so we dragged ourselves out of the warm house and walked across the Moss and round about.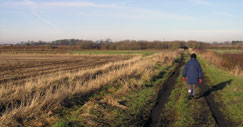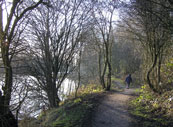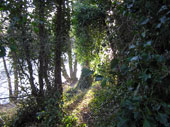 Walking along the path parallel to the road and then alongside the lodges.
Sunday January 23rd - The first Farmers' Market of the year
Thursday January 27th - Suzie took part in her first Health Walk in the morning. In the afternoon we went to the Breathe Easy AGM.
Sunday January 30th - A neutral sort of day and we watched Murry and Notts County on TV. We spotted this balloon going over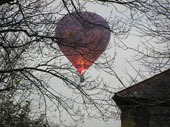 Thursday February 3rd - To Liverpool to get Jaja's passport. Trudie had done all the arranging and paperwork, all we had to do was go to the Passport Office (it's not called that now).
Nothing's too much trouble for Suzie. Suzie navigated and I drove off, full of fear and trepidation - I don't like driving in heavy traffic, where everyone except me knows where they are going, especially cities. The first bit is easy. Down the M6, then the M58. I'd printed out the route from the computer to a car park I'd selected. All went well until we were nearly there when we drifted too far round to the left. We spotted a car park that had plenty of room so we pulled over and parked thinking that we were near enough to our destination to walk, which we were if we'd known were to go. Instinctively I set off to what appeared to be the south-west, all the while looking for a shop to buy and A to Z. We still had plenty of time. We eventually found one on Lime Street station. Walking on and trying to decipher the map a the same time, Suzie getting more anxious every moment, we eventually reached the Passport Office with twenty-five minutes to spare. Emptied our pockets and went through the detector after buttons and zips had set the alarm off. It's all done by appointment now but we managed to get dealt with straight away. Problem. We didn't have a letter from Trudie authorising us to picking it up. clerk said "Does she have access to a fax machine? If she faxes through that will be OK". Out with the mobile and Trudie complied.
What to do now? Whereto go to eat our lunch - cheese and apple. It was very windy! Very windy. We walked down to the main road and low and behold there was the ideal parking space, which had we know would have been easy to find - next time.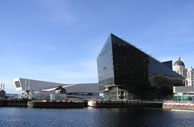 Walking along the road to Albert Dock this ship, sorry building looked very impressive, the dock is Canning Half-Tide dock.
We walked along side the dock wondering where to eat, there was nowhere to sit out of the wind so we'd decided to treat ourselves, we wandered into the Albert Dock and settled on the Cafe Blue. It was excellent, not much but tasty.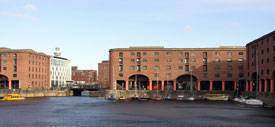 The cafe is in the corner facing you. As you can see it was a nice sunny day but very cold and windy.
We looked in the Tate but it cast money so we walked round the dock, over the gate gate and into the Maritime Museum.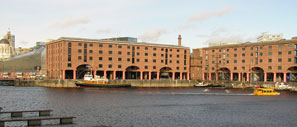 The museum is behind the tug boat. We spent an interesting interval walking round the Shackleton Exhibition on the second floor. We were impressed by the explorers and marveled at their ability to survive in ordinary clothes in such shocking conditions.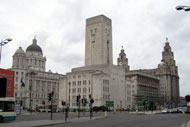 Time to go back. I thought I should try and take a photo of the Liver Building, in the background and as we got closer the Liver Bird.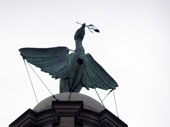 It was so windy I couldn't hold the camera still so it's not sharp.
We trudged back to the Passport Office, very tired by this stage. We were earlier that the allotted four hour, half an hour, but the passport was ready and everything was hunky dory. Even slower now we wandered back to the car. and ate our oranges, apples and cheese before setting off home. It was easier finding our way out of Liverpool, thanks to some kind and patient drivers and soon we were home.
Tuesday February 8th - Suzie wasn't feeling so good so Michael went on the Health Walk from the Sports Centre on his own.
It was such a lovely day that we decided to go for a ride round Anglezark, not to walk just to park on a hill overlooking the reservoir and Lancashire Coastal Plain towards the Ribble and Blackpool.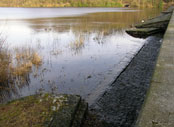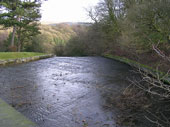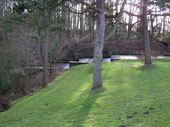 This is Anglezark reservoir, in the top corner you can see where the Upper Rivington reservoir overflow comes into it. The second photo shows the other side of the road where it overflows in to Rivington Reservoir, the third one is s different view of the second.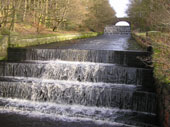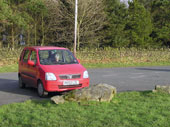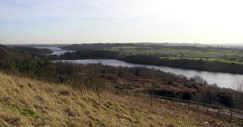 The water flowing down from Upper Rivington reservoir, Suzie reading and the view from the car to the left. It's many years since we've seen water flowing down this overflow and the one from the Anglezark reservoir above.
Thursday February 10th - We both went to the Breathe Easy exercise class.
Friday February 11th - Not a particularly good day but it wasn't raining. After lunch we decided to go for a walk and ended up in Astley Park. Trying hard to lose weight and get fit.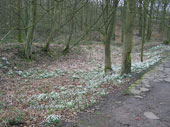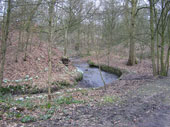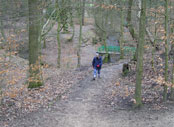 We were immediately struck by the carpets of snowdrops in the woods as we left the front of the Hall. Everywhere was flat with very little colour.
Sunday February 13th - A lovely day, another one of those February surprises. I'd promised Lorna I would do an interview with Austin and take some photos so after lunch we set off to the Glasson.
When we arrived Austin and his mum, Petrina, were washing his boat down. I thought there wouldn't be enough water for a sail so I was worrying how I could get some fake action shots. We took the boat down to the apron and I was surprised to se that I looked like there was enough to sail! After agonising for a few minutes I decided that we would have a go because it was a perfect day for sailing small boats. Even though the tide had just started to come, in the rain water in the river was stemming the tide so thee wasn't much current. I hadn't got my proper dinghy drysuit but no matter. Austin went home to change in his wetsuit and off we went with Sue and Petrina taking the photographs.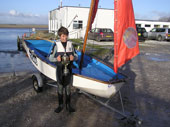 Austin had won the Jubilee Trophy for being the most improved helmsperson in 2010 and Lorna wanted the article for the spring newsletter.
In the evening the Club had arranged a musical evening, the music performed by members with Big John providing backing and continuity. We stayed till 2300 hours and really enjoyed the evening.
Sunday February 27th - We helped with the Farmers Market today
Sunday February 20th - Trudie, Lloyd and Jaja were scheduled to fly to Portugal so we decided to visit Dorothy in Devon. for a few days...
Tuesday March 1st - Our Friend John, the Cuerden Valley Park Chairman of Trustees, is very ill in hospital so we went to see him. When we got there he was surrounded by friends and doing his best to be cheerful. The illness came on sudenly a few weeks ago and the prognosis is poor.
Saturday March 5th - Agnes came for the afternoon. We did meditation and discussed religion - much more enjoyable than it sounds
Sunday March 6th - A lovely sunny day so we spent a few hours wandering round Martin Mere watching the birds.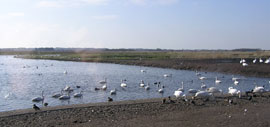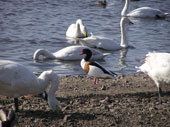 I didn't take many photos, these were through a glass window
Saturday March 12th - A new challenge, I walked to Steven's office to get a lift home with Sue when she picked him up at 1.00 pm. I'll describe the route later. Took me just over two hours and over 15000 steps.
Sunday March 13th - Another lovely sunny day, this time we'd arranged to visit Lloyd's Mum in Bolton ....
Friday March 18th - More sunshine so we decided to walk over the Moss to the garden centre for lunch. Wandering back, we'd decide to go through the Lodges, we stumbled on an unveiling ceremony. The Mayor of South ribble was unveiling a sculpture, a vertical wooden fish, at te hsouth end of the main lodges.
Saturday March 19th - The sun still shining I walked down Mill Lane and through the fields to the Stag Lodge end of Cuerden Valley Park
Wednesday March 23rd - Another glorious sunny day, the daffodils are blooming, the cherry tree is out and I've chopped a lot of growth of one on our conifers alongside the road.
This morning, while Sue went to the dentist, I walked overthe Moss and round about.
Sunday March 27th - Another glorious daty for the FarmersMarket!
Friday 1st April - Trudie usually has her Mums for a meal on Mother's Day but ......
Wednesday 6th April - At the end of November I was excited because we'd got Sue a good pair of walking boots....
Sunday 17th April - A lovely day, perfect for my kind of sailing. I was going to go up to Glasson for a sail but but got stuck round the tele watching the F1 race. However, two-thirds of the way though the race Ivan rang me and persuaded me to go up. I'm glad I did becuase I had an hour and a half on the water, which was very enjoyable. It was too much of a rush for Sue so I haven't got any puictures of Ivan and I. But: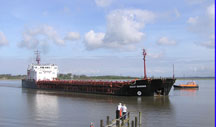 Vasiliy Shukshin, a ship I've not seen before coming into Glasson Dock. The other photo is Lorne of Naze preparing to have her mast stepped.
Monday 18th April - Damian came up from London. We picked him up ......
Tuesday 19th April - Steven and Marie often go to Bolton Abbey to walk so we'd decided that next time Damian came up we'd go there. We couldn't have had a better day - our summer continues, ....
Saturday 23rd April - Daphne, Judith, Nancy, Grace and Martha came over from Todmorden for lunch. Daphne, our cousin in Cornwall, had come up to stay with her daughter, Judith, for a few days. The weather was dull, it had rained overnight but it was lovely to see them all.
Sunday 24th April - The April Farmers' Market at Cuerden Valley Park. We spent the day helping out, Sue on refreshments and I on the Friends' Stall.
Friday 29th April - Michael took part in the Manx Sailing & Cruising Club Round the Island Race.
Tuesday 10th May - Michael took part in the Clayton Green Sports Centre Health Walk
Thursday 12th May - We went to the Breathe Easy Exercise Class.
Friday 13th May - Michael resigned as a Trustee of Cuerden Valley Park
Saturday 14th May - Damian came up from London to attend Wigan's last home match this season. Today we went to Whalley Warm & Dry to get him some new walking boots. He got a pair of Vegan boots yes no animal products used in their manufacture. He was quietly really pleased.
Sunday 15th May - Wigan won with the last kick of the game, all they have to do now is win at Stoke next weekend.
Saturday 21st May - The Cuerden Valley Fair - We were on tender hooks all week hoping it wouldn't rain! It wasn't too kind on Friday when the preparations were underway but on Saturday the rain held off until just before closing time.
Thursday 26th May - Michael went on the Health Walk in Cuerden Valley Park while Sue went to the hairdressers for a trim.
In the afternoon we went to the Breathe Easy meeting.
Sunday 29th May - This morning we had a visit from our two woodpeckers

Monday 30th May - Two Bullfinches again today.
Tuesday 14th June - Michael went on a Level 2 Food Safety course at Runshaw Busines College. so that he can serve food at the Park Sunday afternoon Visitors Centre Tea Room
Thursday 16th June - We had another day at Morrisons with the Breathe Easy Group
Saturday 18th June - Went up to the sailing club to sail or whatever. It was a little windy and no one else was going out in a dinghy so I decided to do something useful instead.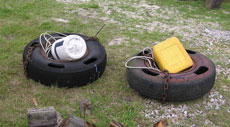 Tuesday 21st of June - Summer Solstice. We went to St Annes and Michael walked along the beach to Fairhaven Lake after we'd had lunch at the Beach Terrace Cafe.
Wednesday 22nd June - Had a day up at the sailing club again. I put four markers out in the positions of the racing marks I'd made on Saturday.
Thursday 23rd June - Michael took part in another Health Walk
Friday 24th June - Sue's 75th birthday today. We went to the pines for lunch, Trudie had booked the day off so she came with us.
Sunday 26th June - Farmers' Market. Despite the unsettled weather of late we had a lovely warm, well muggy day with periods of sunshine.
Tuesday 28th June - We assembled at the Sports Centre for today's Health Walk in shorts and shirt sleeves
Saturday 2nd July - Michael went up to the sailing club today and sailed round the lighthouse on the Topper.
Sunday 3rd July - Michael went up to the sailing club today and sailed up and down and round about - launched too late to get round the lighthouse.
Monday 4th July - Sailing club again, this time to put out the racing marks.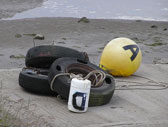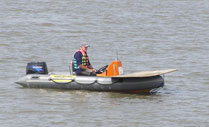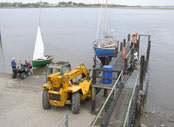 We only got three of the the four out, the weight for the fourth was considered too heavy for the Patrol Boat. Ivan drove the rescue boat and Dave lifted the weights on to the Patrol Boat with the JCB. The JCB is parked waiting for the water to rise sufficiently to be able to launch Lorne of Naze. Another boat was launched and Triagos recovered before we could put the weights out as the tide was ebbing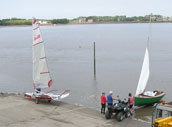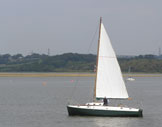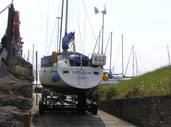 A dinghy, a Blaze, Peter, and a dayboat, Anthony and partner, launched for a sail. John, Curlew, was trying out his new boom. Triagos going up the slipway for the first time on her new trailer.
Tuesday 5th July - Another Health Walk, they are every Tuesday now from the Sports Centre.
Wednesday 6th July - Our first visit to Brockholes, LWT wildlife reserve - just off the M6 at junction 31, Tickle Trout Hotel. It was Suzie's idea. We arrived in time for lunch, poached salmon.
We set out to explore, going south looking for the hide which has spoilt Sue fudge's view. Sue has a fudge stall at Cuerden Farmers' Market next to ours.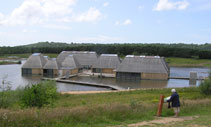 Suzie looking at at board with the Visitors' Centre in the background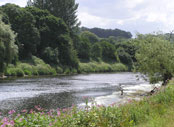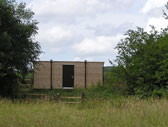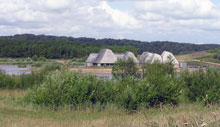 As we walked along the River Ribble bank we spotted this fisherman and eventually we found the hide. This is a view of the floating Visitors Centre taken from the hide. It floats to cope with when the river floods as this site is on the flood plain.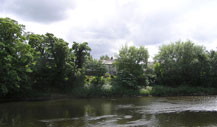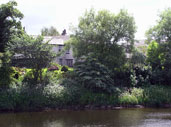 Sue fudge's house or rather farmhouse across from the hide.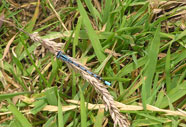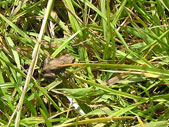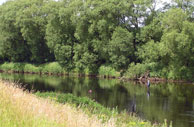 Suzie spotted this damsel fly, there were many in the area of the hide. Walking back Suzie spotted this little frog and further up the river there was this fisherman.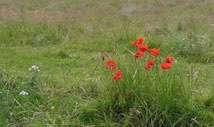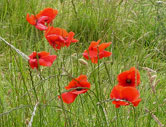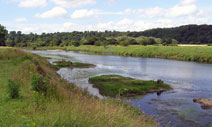 I love wild poppies, this was the only clump we saw.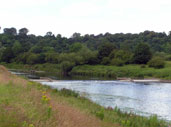 An environmental Agency weir at the limit of our walk.
We got to the car just before the rains came down. We enjoyed the afternoon.
Sunday 10th July - Michael was on duty at the Friends of Cuerden Valley Park Tea Shop
Monday 11th July - We had lunch at the Midge Hall, poor man's gormet pub, and then on to Southport for the afternoon.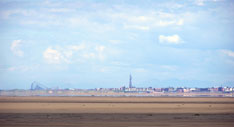 It was a lovely clear day, looking over to Blackpool, a bit hazy. We couild see the Lake District hills and the Welsh hills.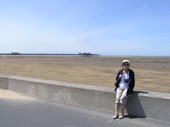 The pier, we'd decided that we' walk along the pier for fresh sea air and a cup of tea.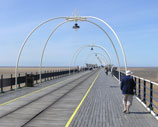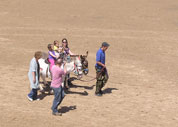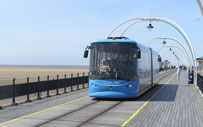 Donkeys are still popular. No concessions on this tram!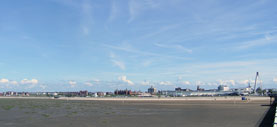 After our cup of tea and cake we walked back along the pier, you can just see the 'new' bridge on the right of the pisture. The bridge photo was taken looking the other way on our way back to the car.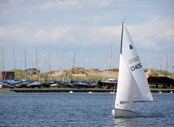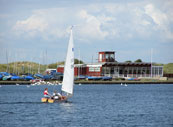 A GP14 on the marine lake. As we walked over the bridge there was no sign of the motor boats that used to be for hire? The lake seemed to be full of green growth south of the bridge, perhaps the boats could no longer operate because of this, it would soon wrap round the propellors and stop the engine.



Evening Primrose flower were everywhere.
Sunday 24th July - The CVP Farmers' Market again. A lovely day
Monday 25th July - We went to Southport, this time to find the Hotters shop to get Sue some new shoes. A lovely day. We had lunch in Pippins restaurant alongside Marks & Spencers.
Couldn't resist Marks & Spencer. We couldn't find any trouers for Sue but we got vests and a lightweight polo shirt for Michael.
Whilst looking for the Hotters shop we managed to get Sue a pair of leather gloves in the shop where we had got her previous pair - she is delighted.
We eventually found the shop but the didn't have the shoes Sue wanted so the assistant said she would order them for her.
Tuesday 26th July - Michael went on the Tuesday Health Walk from the Sports Centre
Wednesday 27th July - Michael cleaned the windows. So what's remarkable about that? Well it was a year ago when we last cleaned them!
Thursday 28th July - Michael went on The Health Walk from the Barn
Saturday 30th July - Michael went sailing on the Topper, much too small for him
Sunday 31st July - Michael was the OOD at Glasson Sailing Club
Monday 1st August - Well the Hotters' shoes arrived last Friday but they weren't the same ones as Sue had, like the assistant who ordered them said they would be, so we took them back. Managed to get Sue a pair in Clarke's. We were very disappointed in the shops, no one was interested in serving us - you just pick a pair off the shelves and someone will take your money, no attempt to find a pair for you. - visit Moss Bros in Southport to find out what real service is like.
We had another lovely meal at Pippins.
Tuesday 2nd August - Michael went on the Tuesday Health Walk from the Sports Centre - Sue's going to start soon
Wednesday 3rd August - A glorious day, much better than forecast! We went up to the sailing club where Michael laid a marker for a racing buoy and later put the racing mark out.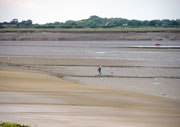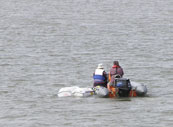 Positioning the marker buoy with the tide out - beware quicksands - and then towing the race mark anchor weight, under the builder's bag with the two 45 gallon drums in it, and lowering it in position - actually cutting the rope securing it to the bag.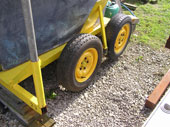 We also put the renewed wheels and new, well second hand, tyres, back on to Suzi's trailer.
Later we cut the grass round the boats and had a go at cleaning the Topper deck, a bit disheartening but it sails OK. Then we cut a new cover to shape.
On the way home we stopped at Galgate Fish and Chip shop and drove onto the Forton Services to eat the fish and chips on the way home.
Saturday 13th August - Michael went sailing, hopefully a few photos soon courteously of John Hinas Moon.
Sunday 14th August - It turned into a glorious afternoon, much better than the previous week and it felt like summer again. We went up to the sailing club to prepare for the next few days.
Michael was Officer of the Day for the Dinghy Racing.
Tuesday 16th August - Our annual holiday in Glasson Dock at the sailing club. Jaja's report
August Bank Holiday Weekend - Michael was Officer of The Day for the weekend, Saturday, Sunday and Monday - The Glasson Sailing Club Regatta
Sunday 4th September - Our turn to help at the Cuerden Valley Park Tea Shop
Thursday 7th September - Damian was up from London for a few days and we went to Mere Sands Wood nature reserve and later had lunch at Rufford Old Hall - no report yet!
Friday 9th September to Tuesday 20th September - We had a lovely holiday in Cornwall with our Cousin Daphne.
Sunday 25th September - We were on duty again at the Cuerden Vally Park Farmers Market
Tuesday 27th September - Suzie came on the Health Walk, only her second time, and she thoroughly enjoyed it.
Sunday 2nd October - I was Officer of the Day for the Dinghy Racing at the sailing club, The Nateby Trophy and the 1st Sunday of the Frostbite series.
Tuesday 4th October - We took part in the Health Walk from the Sports Centre
Tuesday 11th October - We took part in another Health Walk from the Sports Centre
Sunday 16th October - Michael officiated again at the dinghy racing at Glasson
Tuesday 18th October - Michael took part in another Health Walk from the Sports Centre
Sunday 23rd October - we helped at another Cuerden Valley Park Farmers Market
Tuesday 25th October - We missed the Health Walk today because we went to Lytham Lowther Pavillion to see Trudie and Lloyd take part in the Sally Naden show for Radio Lancashire talking about their new book. To look at the book see - Dreams Do Come True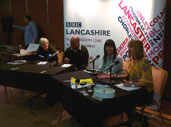 Chris, Sound Engineer; Pat Ascroft, Great Wall of China walker, Lloyd, Trudie & Sally Naden during the broadcast.
To keep Radio Lancashire safe from drastic cuts sign the petition. We need a 1000 signatures before the Goverment take notice.
Thursday 27th October - We took part in the Health Walk
Sunday 30th October - Sadly Jaja fell of his BMX bike and damaged his shoulder and fractured his upper arm, right- hand side.
We attended Michael's former work colleague's fiftieth birthday party at the Pines Hotel. We had a happy reunion with some of Michael's former colleagues.
Monday 31st October - Damian had stayed overnight and we all walked round Anglezarke Lake with lunch at the Rivington Church Hall. Damian was hoping to get some autumn photographs of the trees but we didn't get any sunshine,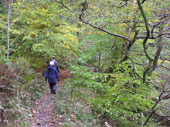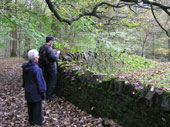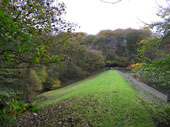 Towards the end of our walk, the upper Anglzarke reservoir, the scene Damian was photographing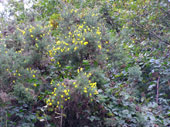 The gorse brightened up the day.
Tuesday 1st November - Michael went on a Health Walk from the Sports Centre while Suzie took Jaja to the hospital Fracture Clinic.
Sunday 6th November - Tea Shop duty today, it was a lovely day, which brought in many customers and visitors to the Barn - highest takings to date.
Tuesday 8th November - We both turned out for today's Health Walk
Sunday 13th November - Michael was Officer of the Day at Glasson Sailing Club for the 4th Sunday of he Frostbite Sereis
Tuesday 15th November - We both turned out for today's Health Walk
Tuesday 22nd November - Only Michael turned out for today's Health Walk
Thursday 24th November - We both turned out for today's Health Walk
Saturday 26th November - Auntie Kath, our last remaining Aunt's 90th birthday!
We travelled down to Ricahrd and Julies on Friday, leaving at 1045 hours, arriving in Maids Moreton, Buckingham, at 1500 hours.
On Saturday Richard and Julie took us to Dunstable Downs Golf Club where Auntie Kath was having her birthday lunch.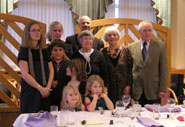 Auntie Kath's immediate family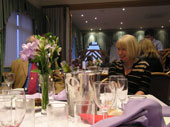 We were seated on Table 3 with Richard & Julie, cousins Monica & Glynn and cousins Phillip & Valerie. Julie is in the photo, Richard is behind the flowers.


Auntie Kath and Sue at the end of the day.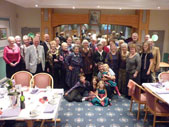 photo cousin by Glynn Jones
All of us!
Tuesday 29th November - Today Suzie & Jaja featured in 'Yours' magazine - all as a result of Trudie & Lloyd's book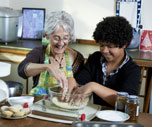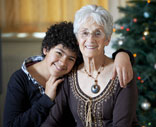 The photos were taken for 'Yours' magazine by Victor De Jesus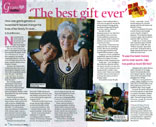 The magazine article
Tuesday 6th December - We both turned out for today's Health Walk
Sunday 4th December - We both helped at the Cuerden Valley Park Children's Fair
Sunday 11th December - Michael was Officer of the Day at Glasson Sailing Club for the last races in the Frostbite Series
Tuesday 13th December - We both turned out for today's Health Walk
Friday 16th December - We completed our Christmas shopping today, later than usual, all we have to do now is parcel it up and get it sent off, which we managed on Saturday.
Sunday 18th December - We both helped at the Cuerden Valley Park Farmers Market
Tuesday 20th December - Only Michael went on today's Health Walk from the Sport Centre
Thursday 22nd December - We both went on the Health Walk from the barn
Thursday 22nd December - a huge fire was happening less than a mile away from us and we were cmpletely unaware - fortunately the wind was westerly and was blowing,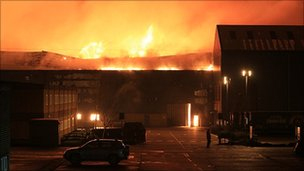 and still is blowing, the sparks, smoke and heat away from us Radio Lancahsire report
Friday 23rd December - Trudie treated us to a pantomime in Bolton at the Albert Halls - Goldilocks - staring Stu Francis and Rebecca Lake
Sunday 25th December - Christmas Day. We spent the day with Trudie. Lloyd, Jaja, Lloyd's brother Tony and Lloyd's Dad Clinton.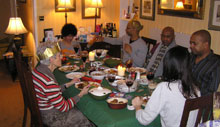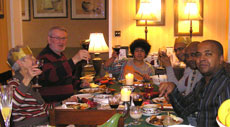 To try and make room for all the food I walked up to Trudie's - 32 minutes.
Monday 26th December - Today we went over to Alison & Paul's in Briercliffe for lunch and tea. Dorothy, Robin & Ann from Devon were staying with them over Christmas. We also saw Kathryn & Richard for a few moments.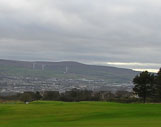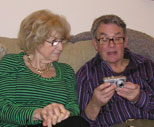 Alison, Robin and I had an enjoyable walk over the golf course and round about before lunch.
Tuesday 27th December - Gregory and Rachel's today for the Leyland Swarbrick Family gathering. In the morning I went for a walk across the Moss and round the Lodges.
Wednesday 28th December - strong winds today but walked over the Moss before it rained - 74 minutes.