The story of our garden this year.
Click on the small pictures to see a larger version Other years : 2008 2009 2010 2011 2012
January February March April May June July August September October November December
Tuesday 1st January - Happy New Year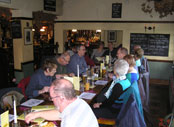 Our annual New Year's Day walk with the Health Walkers and lunch afterwards.
Thursday 3rd January - This was our first walk from the Barn of 2013 - a walk in the northern area of the Park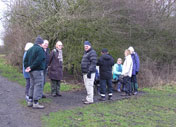 Friday 5th January - We took a Christmas present back to M&S only to find out it's return value was 1p! It had been bought in the 2012 January sales.
Sunday 6th January - We planned a walk in the Park with lunch at Sue Riders first. The cafe was shut and Sue ended up working in the Park Tea Shop while I walked alone.
Monday 7th January - We visited our friends from the sailing club, Chris and David booth
Tuesday 8th January - Starting from the Sports Centre today. Well the rain didn't stop, just got wetter! Carmel and Anne led off . . . .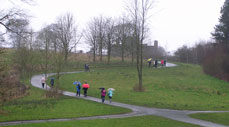 Thursday 10th January - Health Walk from the Barn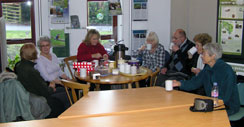 Sunday 13th January - Michael went sailing for the first time this year. He went to Glasson to sail yesterday, Saturday 12th, but it was much too windy.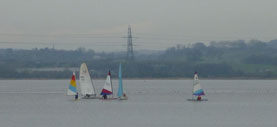 Towards the end of the racing, it's getting a bit murky.
Tuesday 15th January - Walking from the Sports Centre, sixteen last week, down to six today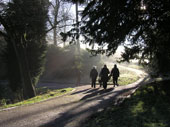 The Pinetum
Thursday 17th January - Health Walk from the Barn today. Sue came today and thoroughy enjoyed herself despite the cold and ice.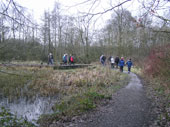 Cock Cabin Pond
Saturday 19th January - We went up to the sailing club in the evening, where Michael was giving three short presentations of the 2012 dinghy sailing and events round the Club along with three other members.
Sunday 20th January - We were on duty at the Park in the Friends Tea Shop again. It was a very busy day and we were both exhausted by the time we closed.
Tuesday 22nd January - Walking from the Sports Centre, again only six of us including Gareth, this time probably because of the cold, snow and icy conditions. Meanwhile Jacquie was in the air flying to Tobago.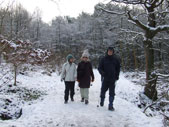 Thursday 24th January - Health walk from the Barn Michael wasn't well and Sue decided not to walk


Sue Receiving a cheque on behalf of the Breathe Easy Group from BLF COPD Nurse Lesley McCallion at the Breathe Easy Meeting today -24th January.
Tuesday 29th January - Walking from the Sports Centre today, we were eight plus Gareth, the forecast of heavy rain and high winds no doubt deterred the others. . . . .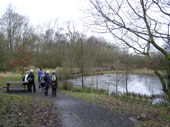 Thursday 31st January - We both went on the Health Walk today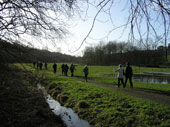 February Saturday 2nd February - Michael went sailing again
Tuesday 5th February - Michael went walking from the Sports Centre again with the group, the forecast of snow, sleet, rain and high winds no doubt deterred the others but we were pleasantly surprised. . . . .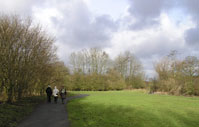 Wednesday 6th February - Michael decided to cut more wood from th top of the Hawthorn tree in hte front garden
Thursday 7th Feruary - We both took part in the walk from the Barn today, there were fourteen of us. Dry, overcast but no wind. Rain was forecast but we didn't get any. Sorry no photos today! . . .


Friday 8th February - completed the work on the hawthorn tree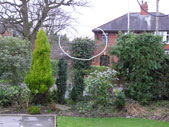 Sunday 10th February - should have gone sailing but it was too windy and cold. We had lunch in the Park Tea Shop.
Tuesday 12th February - Michael took part in the usual Tuesday Health Walk. Walking from the Sports Centre today, we were nine, including a new walker, Lin, plus Gareth. It was a lovely morning with the occasional flashes of sunshine. . . .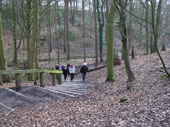 Thursday 14th February - Sue didn't walk today, she saved herself for the Breathe Easy exercise class in the afternoon. Walking from the Barn it was quite mild, a nice change, a lovely morning with the sun breaking out as we finished our walk. . . . . .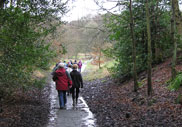 Saturday 16th February - Michael went sailing again


Sunday 17th February - Both on Tea Shop Duty today - highest takings to date but there was an event on the Park - Girl Guides
Tuesday 19th February - Another Health Walk, Sue again declined to take part, the Tuesday ones can be long and hilly.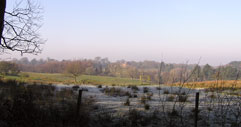 Thursday 21st February - We both went on today's Health Walk, a lovely sunny morning but a biting cold wind . . . .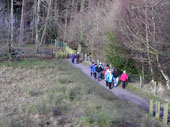 Sunday 24th February - Sue worked in the Cuerden Valley Tea Shop while Michael went sailing - it's too cold and wet for Sue!
Tuesday 26th February - Sue not well so Michael missed the Health Walk but in the afternoon he managed to get some exercise
Friday 1st March - Damian was up from London so Michael & Damian went for a walk in the Park
Saturday 2nd March - Sailing again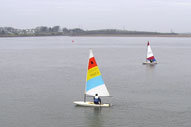 Sunday 3rd M<arch - Michael sailing while Suzie works in the garden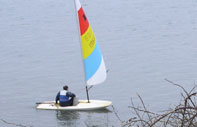 Watch this video made by a friend at the sailing club
Monday 4th March - Michael & Damian walked along the beach at Formby Point.
Tuesday 5th March - Michael again on a Health walk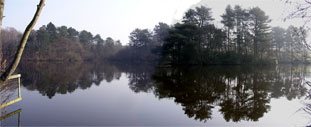 Sue worked hard in the garden tidying the back stands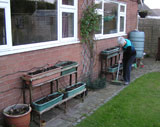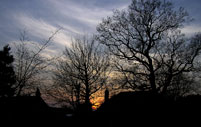 Thursday 7th March - Both of us went on the Health Walk - didn't take my camera, which was a shame because the rain held off and there were photographs I would have taken.
Saturday 9th March - Sue went of with Trudie to Bolton to have a Mothers' Day lunch wit hJenny & Jerry.
Michael stayed at home painting letters on buoys


Sunday 10th March - We both did our Cuerden Valley Park Tea Shop duty.
Tuesday 12th March - Michael went on the Health Walk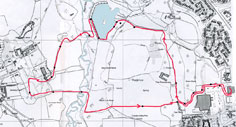 Thursday 14th March - We both went awalking



Seventeen of us - can you work out why there's nineteen of us on this codged up photo?
In the afternoon we went to the Breathe Easy Exercise Class.
Saturday 16th March - Michael went sailing, before the sailing he put out race mark C into the estuary


Sue went shopping with Trudie
Sunday 17th March - Michael went sailing, before the sailing he put out race mark D into the estuary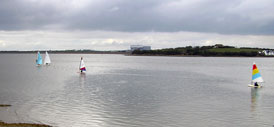 Tuesday 19th March - Michael took part in the Health Walk

Thursday 21st March - We both 'Health Walked' again, another lovely sunny morning, a cold wind but it was worth it.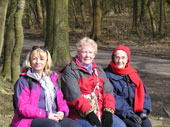 Saturday 23rd March - We both went up to the sailing club for a talk by Cedric Robinson, Queen's Guide to the Sands - Morecambe Bay
Sunday 24th March - Sue helped in the Park Farmers Market Tea Shop
Tuesday 26th March - Michael went on the Health Walk
Thursday 28th March - We both went on the Health Walk from the Barn and in the afternoon we visited the new Farington Waste Recovery Park just up the road from us.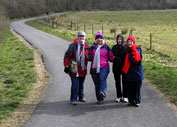 Friday 29th March - Michael went sailing


Sunday 30th March - Michael went sailing again!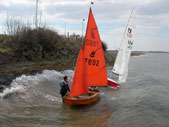 Sue went walking in Cuerden Valley Park with Trudie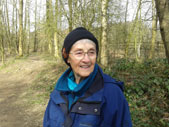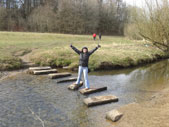 lTuesday 2nd April - Health Walk - only Carmel & I turned up! So we gave Gareth an 80 minute non-stop brisk walk and he never got more than a step ahead. For most of the time we walked abreast. The cows are back in the field!


Thursday 4th April - we both went on the walk today, Michael leading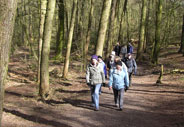 Tuesday 9th April - Health Walk from the Sports Centre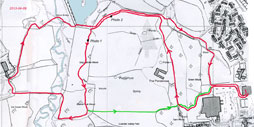 Thursday 11th April - Both of us went on today's walk.


Saturday 13th April - sailing again while Sue and Trudie went out to lunch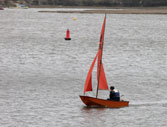 Looks easy doesn't it?
Sunday 14th April - Volunteers Day at the Park - a miserble wet day, hardly anyone in the Park!
Monday 15th April - We went up to the sailing club to retrieve some of Michael's gear that he had overlooked when packing on Saturday. We aired Suzi and wondered where and when to start giving her a spring clean?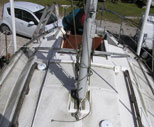 Oops she's been neglected for too long!
Tuesday 16th April - We all arrived at the Sports Centre today to find our leader Gareth had rung in sick so we were sent away to look after ourselves. There were eight of us . . .

Thursday 18th April - both of us went on the Health Walk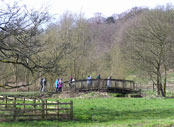 Friday 19th April - finished painting the buoys for the time being


Tuesday 23rd April - Health Walk


Thursday 25th April - morning - both of us walked today!


Thursday 25th April - afternoon - Breathe Easy Group Meeting - Line Dancing Taster!

Saturday 27th April - more dinghy racing - this time Michael did well!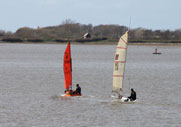 Thursday 2nd May - both health walking today


Friday May 3rd - Putting race mark B into the estuary. Photos of the marks.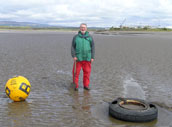 Saturday 4th May - Michael working at the sailing club again, this time power washing Suzi.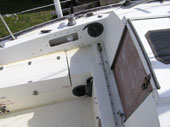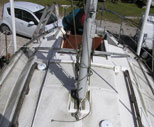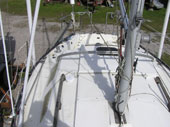 Before After Before After



Before After
The before photos were taken on 15th April
Sunday 5th May - we worked in the garden
Monday 6th May
Tuesday 7th May - Michael walked from the Sports Centre
Saturday 11th May - Damian went to Wembly to watch Wigan win the FA Cup!!!
Tuesday 14th May - Michael walked from the Sports Centre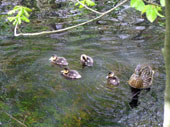 Thursday 16th May - We both went on the Health Walk from the Barn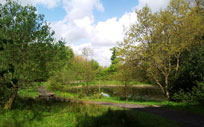 Friday 17th May - Damian was up from London to see Wigan play their last match in the Premiership on Sunday. Michael and Damian walked up Rivington Pike in the afternoon.
Saturday 18th May - We went up to the sailing club in the afternoon for the Tea by the Sea RNLI Fund Raising afternoon and Michael raced afterwards. We had a meal at the Mill Inn in the evening.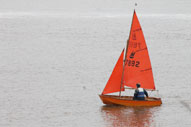 Sunday 19th May - Tea Shop duty for both of us today.
Monday 20th May - Michael walked with Damian along the canal from Haigh Hall, Damian goes back to London tomorrow.
Tuesday 21st May - Health Walk from the Barn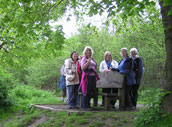 Thursday 23rd May - Health Walk from the Barn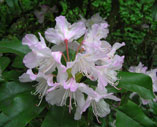 Sunday 26th May - Sailing in the Glasson Spring Series
Saturday 25th May - Sailing in the Glasson Spring Series
Tuesday 28th May - another Health Walk
Thursday 30th May - yet another Health Walk
Sunday 2nd June - Cycled round the Guild Wheel with friends and friends of friends to raise money for our Breathe Easy Exercise Classes

Tuesday 4th June - Helath Walk - no report yet
Wednesday 5th June - more gardening although it's a bit cheeky to say more as I haven't done a lot yet. Sue's done some. the harsh winter and late spring kept teh weeds down but they've made up for it these last three weeks.
Thursday 6th June - another Heath Walk. The walks are taking up too much time at the moment, I think I'm going to stop doing the Tuesday ones, can't stop Thursday because I'm a leader


Need to work in the garden and on the boats, which are in need of TLC
Friday 7th June - on duty in the afternoon on the gate at the CVP Beer Festival. (They had to close the gate early evening on Saturday - the orchard was full to capacity - glad I wasn't on duty then)
Saturday 8th June - we helped with the racing up to Snatchem's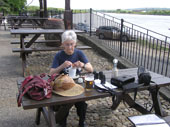 Sunday 9th June - Michael sailing - Michael won the D K Wright Trophy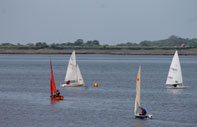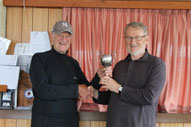 Sue stayed at home




Not working all the time - lunch with Trudie
Thursday 20th June - Brought the Mirror sailing dinghy home to repaint and varnish after the hoidays
Saturday 22nd June - Michael was declared the winner of the Spring Series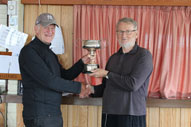 Sunday 23rd June - Sue wasn't feeling well so Michael helped her with the teas at the CVP Farmers Market
Monday 24th June - Sue's Birthday. We had lunch at the Pines with Trudie

Tuesday 25th June to Wednesday 10th July - Holiday with Cousin Daphne in Cornwall.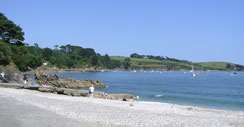 Thursday 11th July - Both of us: Health Walk in the morning and Breathe Easy exercise class in the afternoon
Saturday 13th July - supposed to be sailing but I forgot my sail battens for he GP14 so I OODed.
Sunday 21st July - Michael, after working hard refurbishing his Mirror sailing Dinghy over the past week, had a break to go racing.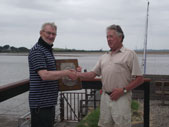 Thursday 25th July - Michael went on a Health Walk and Sue went to the Breathe Easy Lunch at Wellington Park, Michael should have gone but he gace up his place to Pat who had been on holiday and was too late to book.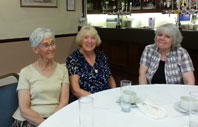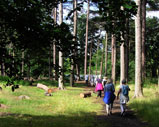 Friday 26th to Tuesday 30th - we went to Richard and Julies 25th Wedding Anniversary at therir home in Mais Moreton in Buckingham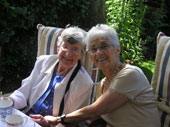 Wednesday 31st July - Damian was up from London and we went to Southport. We walked along the pier, the tide was out and even hard to see in the distance.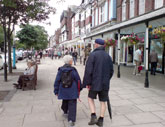 We had lunch at Pippin's. We walked tound King Georges Park and were dismayed that everything was so depressing and felt sorry for all the people who had come here on holiday. It is being refurbished and all the facilities were closed down. The holiday makers will probably never return. It only rained as we were returning to the car.
Sunday 4th August - Summer Series 8 - Michael not sailing but taking photographs. The wind was tricky and Michael didn' twant to get our newly refurbished Mirror wet!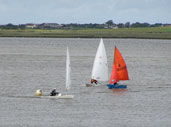 Thursday 8th August - Health Walk, both of us although Sue did the short walk, Michael was leading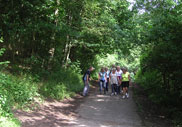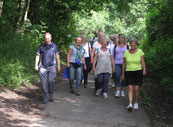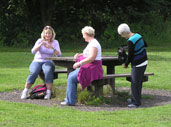 Saturday 10th August - The Lancaster Guardian Trophy and Summer Series Day 9 - Michael Sailing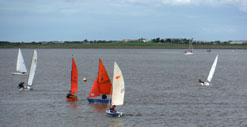 The start of the first race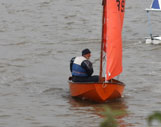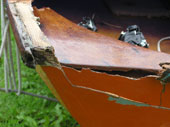 The first time out in our refurbished Mirror, sadly the front got broken, last time it will look pretty like this
Sunday 11th August - Some of us turned up to race but decided it was much too windy, all except one, Robin Whitam. He got his OK ready and sailed up and down in challenging conditions - Michael not sailing but taking photographsailing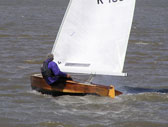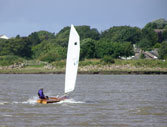 About two and a half hours before high water
Friday 16th August - Repairs complete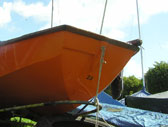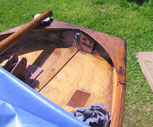 Sunday 18th August - Our niece Nici and her children Lauren and Josh came to stay with us and we visited Formby beach and St. Anne's Beech as well as other places.
Monday 19th August - We all trooped off to the beach at Formby with Trudie, Lloyd and Jaja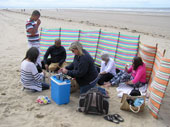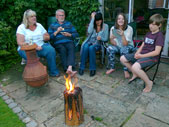 in the evening we burnt up the log we'd had for over a year
Tuesday 20th August - Today we were all persuaded by Trudie to go to Worden Park


Wednesday 21st August - St. Anne's was our destination today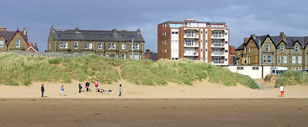 Thursday 22nd August - Their last day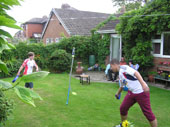 Saturday August 24th to Sunday August 26th we took part in the Glasson Sailing Club Regatta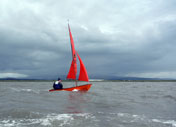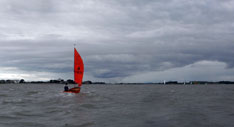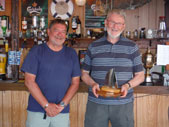 A slide show of the regatta photos
Tuesday 27th August - Started work on Jaja's new desk! continued on Wednesday, Thursday, Friday
Saturday 31st August - Getting to the exciting part: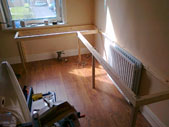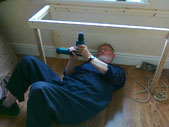 Early Saturday, after four days of hard work we're ready to fix the top on, drilling the holes for the fixing screws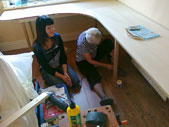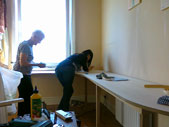 Putting filler round the leg holes and the joints on the top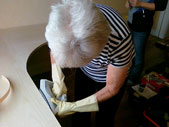 Suze ironing on the veneer to the edge of the top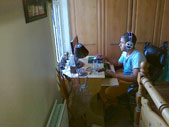 The days of the old desk are numbered
Sunday 1st September - Suzie & Trudie varnished the desk while Michael watched football on Trudie and Lloyd's TV.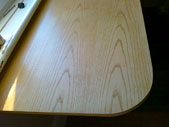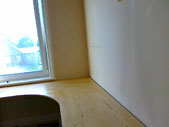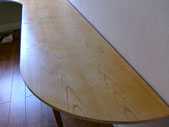 beginning to look good
Wednesday 5th September - Michael sailed the Topper to the lighthouse with Duncan, Robin and Ivan
Saturday 7th September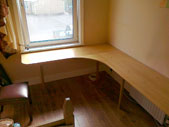 Ready for Jaja's equipment!
Sunday 8th September - Michael sailed again at Glasson - video of Michael sailing made from video of everyone sailing
Tuesday 10th September - Went to Vic's funeral at St. Ambrose's Church, Charnock Richard Crematorium and afterwards at Farington Lodge
Wednesday 11th September - went to sail but it was too wet for Michael
Thursday 12th September - Health Walk in the morning and Breathe Easy in the afternoon
Friday 13th September - Sue said I want to go out take me to Cleveleys where they are erecting a new sculpture of a sea shell. When we got there the crane didn't turn up, ground too soft?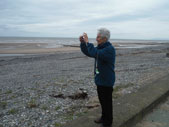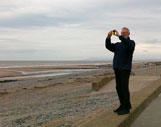 Sue with her phone and Michael using his new waterproof camera for the first time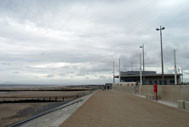 We had lunch in the cafe
Afterwards we drove into Fleetwod and made some purchases at the freeport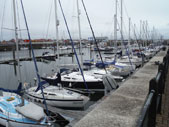 The marina, just a quick look
Saturday 14th September - Jaja's new desk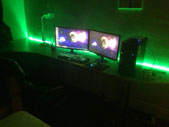 Friday 20th September - Damian up again so we walked along the the Leeds-Liverpool canal from the Boat Yard Inn at Riley Green as recomended by Bernadette and Carmel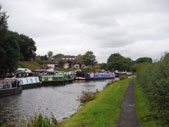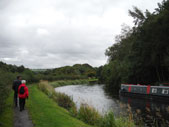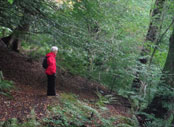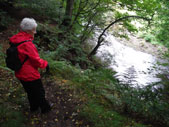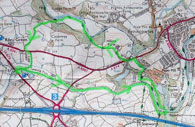 It wasn't all that bright but it was quite pleasant. Took us 2 1/2 hours.
Saturday 21st September - Michael Sailing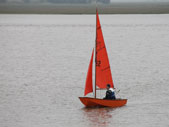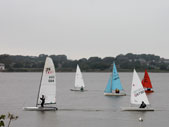 Thursday 26th September - Health Walk in the morning then Breathe Easy in the afternoon
Sunday 29th September - Michael went on another cycle ride round the Preston Guild Wheel with Cath's friends (Cath is the Breathe Easy Physio)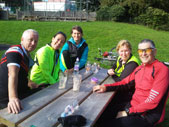 We're at the Shaw's Arms resting near the end of the ride - Dave, Heather, Elaine, Cath & Steve. Sue took me down to the marina, where we started from, but I managed to cycle home.
Sunday 6th October - Sailing - The Nateby Trophy - Good Day for Michael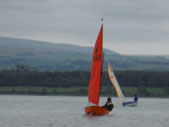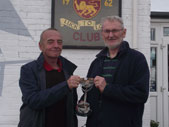 Saturday 19th October - Sailing - Frostbite Series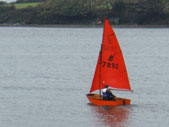 Tuesday 22nd October - Managed 13 miles ending in wind and rain. I met a local couple on the Old Penwortham Bridge, it says Penwortham Bridge on the OS map, they know it as Middleforth Bridge. They said it was originally a ford! - Middle Ford, hence now Middleforth. The other fords were at the Tram Bridge and the New Penwortham Bridge (A59) leading to Fishergate.
Thursday 24th October - Keeping Cycling! This morning 15 miles - lovely morning. Lostock Hall, Old Tram Road, west along river as far as possible then turned round and came back over old Penwortham Bridge - Higher Penwortham - Home.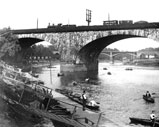 The photo is taken between the Railway Bridge and the Old Penwortham Bridge. It's a bit before my time but in the mid 1950s I rowed my girlfriend up the river. We used to play tennis on courts adjacent to the Continental pub. No boats and no tennis courts now.
Saturday 26th October - Cycling again!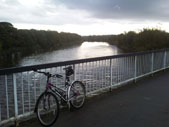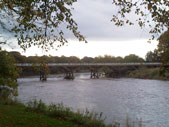 Resting on the Old Tram Bridge and the bridge itself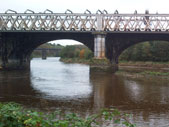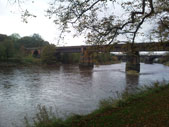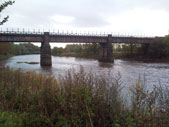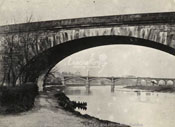 The first photo is, as far as I can make out, is taken from a similar position as the 1900 photo posted earlier. This shows the additional metal structure to widen the railway bridge.
The second and third photos are the bridge behind in the photo, the old East Lancs Railway bridge now a walkway, and it looks like that has been rebuilt since 1900. You can see by the fourth photo that it is the same bridge by the brick built section.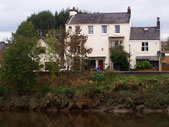 This photo is taken from across the river and is roughly where the boats were. There is a 'Ferry House' and 'The Boathouse' amongst the dwellings.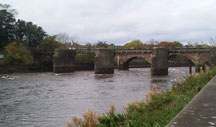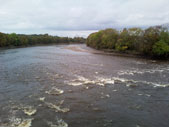 This photo is taken from the position of the first photo looking west. It shows the 'Vicarage Bridge', mostly demolished and is just a pipe of some sort on the old pillars. Behind it is the 'Old Penwortham Bridge'. The second photo is looking downstream from the Old Penwortham Bridge
Thursday 31st October - Feeling adventurous, set off on the bike towards Preston Marina and eventually Broughton - 31 miles . Absolutely worn out when I arrived home!
Friday 1st November - Ivan came to visit us and Sue said lets go and see the underground reservoir at Whittle-Le-Woods, today is the last day before they destroy it so we did.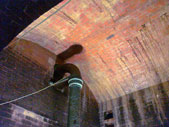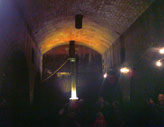 Taken with Sue's phone. The build started in 1883 and was used up to the 1940s. It was mainted as a back-up facilties until the 1980s. We believe one arch is to be saved and rebuilt in a local park.
Sunday 3rd November - Sue said lets go and see Lloyd in his new shop at Southport. We set off to arrive at High Water, to see the sea in and walk over the sea on the pier.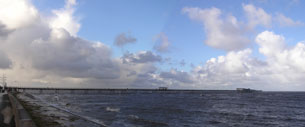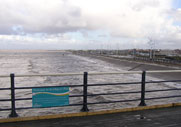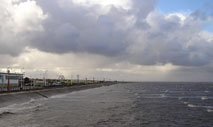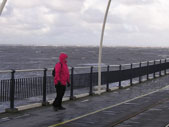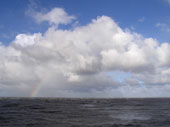 Twas cold and windy - a rainbow in a blue sky
Monday 4th November - Out on the bike today, it may not be fit to ride tomorrow
Tuesday 5th November - Out on the bike again, around 15 miles, Whittle - Bamber Bridge - Avenham Park - Old Penwortham Bridge and back home. The rain held off even though reports later said it was raining all round.
Thursday 7th November - Cycling today, 25 miles: Leyland - Whittle-Le-Woods - CVP - Tram Road - Brockholes - Tram Bridge - South Bank Ribble - Higher Penwortham - Home
Tuesday 12th November - 18.5 miles today cycling round Ulnes Walton, Bretherton, Much Hoole, Longton, Hutton and Penwortham.
Monday 11th November - 11 miles cycling in the rain
Sunday 10th November - It was a lovely day and Sue wanted to go out so we went to Cleveleys to look and see if the 'Seashell' was in place - it was.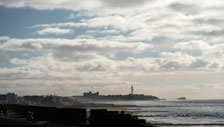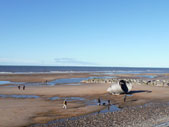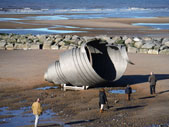 Looking towards Blackpool - Looking the other way to see the shell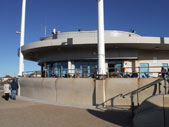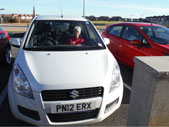 On our previous visits we've had lunch in the cafe, where we were parked, but today, rather than the 'all day breakfast' we had quiche that Sue had cooked on Saturday, and salad, in the car.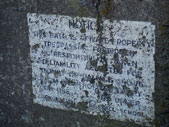 We walked towards Fleetwood. Arnold School, Rossall. I'd played rugby there for Balshaw's a long time ago. Not so long ago, about 20 years, I came again with Fleetwood Nautical College to Arnold's outdoor pool in February for sea survival training. I couldn't find the pool, it must have been destroyed but was heartened to see this fading notice on the sea wall, which confirmed I hadn't been dreaming. The water was very cold.
Walking back we noticed a grain of sanderlings, a bird which we identified from the information boards along the prom.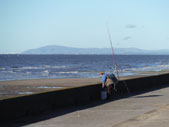 All along the shore there were fishermen, were they getting ready for a competition when the tide came in. This one's a fisherwoman and unlike the others she was on the promenade.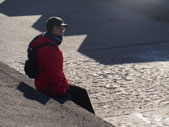 Suzie wrapped up against the cold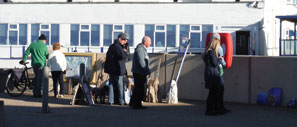 A 'Driftwood' Artist, we think he's the bald one, near the cafe.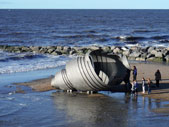 Our 'short stay' car par ticket was running out and the sea hadn't embraced the shell. what should we do? Come again on another day? We moved to the long stay car park, it was cheaper than the petrol for coming again.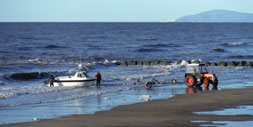 Meanwhile a small boat is being recovered, Wire Boat Angling Club. You can just se the boat above the shell in the first photo.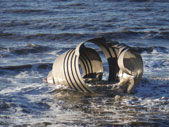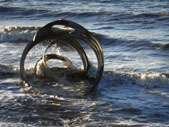 It's nearly high water now, about 30 minutes to go. Today was a 8.4m tide so on a spring tide, 10m plus, it would only just be visible.
Thursday 14th November - Lostock Hall, Bamber Bridge, Tram Road, Guild Wheel to London Road, Back to Tram Bridge and along south bank to Penwortham, Home
Sunday 17th November - Special Meeting at the sailing club with the Committee! Sold Suzi to Duncan
Monday 18th November - Sold Topper to Ian
Wednesday 20th November - Duncan came and we loaded up his car with all Suzi's gear that we had in the attic, sails etc.
Thursday 21st November - Michael's 31 mile cycle ride.



This is a cobbled up photo made by merging two shots. It's at Brockholes from the Guild Wheel cycle route, I stopped to warn Suzie that it would be another hour before I got home for diner (lunch to some people). It was a lovely morning, just a few spots of rain but lots of sunshine.
Since I started cycling in the summer I've wanted to cycle from home and do the Guild Wheel and back home. I've done the Guild Wheel twice since my birthday this year but not from home, car assisted starts or finish.
I cycled from home via Chain House Lane and the Booths roundabout down to the Old Penwortham Bridge at Middleforth where I joined the Guild Wheel. Returned home the same way.
Great day, I've achieved something!
Friday 22nd November - Sue said lets got to St. Anne's. We arrived in time for lunch at the Beach Terrace Cafe. Next stop the RNLI Shop to buy some Christmas Cards and then we walked along the beach towards Blackpool.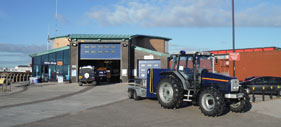 Saturday 23rd November - Went up to Glasson to bring the Mirror home, Duncan towed her home.
Sunday 24th November - Managed to get the boat through the garage and take some stuff up to the tip.
Monday 25th November - 16.25 miles cycle through CVP and along the Ribble.
Thursday 28th November - another 16.5 miles in the morning, clockwise this time, while Sue went on a heath walk and then in the afternoon we went to the Breathe Easy Group meeting where Peggy gave a talk on her life in the Scout Movement.

I was asked to try on Ed's 'blanket'.
Saturday 30th November - back to the normal 16.5 mile ride in the morning this time on Sue's bike on which I couldn't get the seat high enough. The gears are all wrong and the chain came off ascending, trying to ascend, a hill. A passing cyclist stopped and was very helpful and effectively got the chain back on for me. I said I was only a beginner, which he disputed when I said I was on a 16 mile ride. He usually goes out for an hour or so. Perhaps I'm going to long, a shorter faster ride may be more beneficial?
Monday 2nd December - took the bike to the shop to see about the pedal axle bearings and they found it was only the loose locking nut! So the bike is as good as new again.
Tuesday 3rd December - celebrated with an 11.75 ride on the bike. In the afternoon we went to collect presents from Alex
Wednesday 4th December - put Alex's Christmas arrangement on Mum & Dad's memorial stone.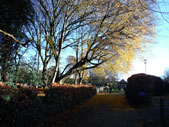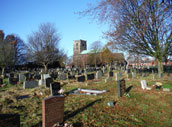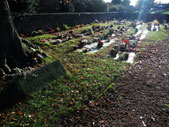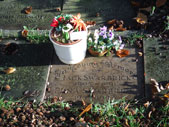 Thursday 5th December - Too wet and windy to cycle today so went on the health walk with Sue and renewed my old friendships.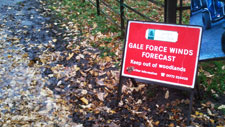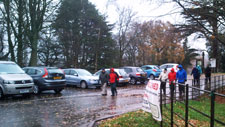 We were asked to avoid the trees. Returning from the walk
Friday 6th December - 11 miles today
Sunday 8th December - another 11 miles
Monday 9th December - I had an inspiration yesterday - why don't I deliver the local cards on my bike!



I even thought of making my own stamp, which I did. Today I 'posted' around 30, covering 17 miles over 2 hours 20 minutes. I like to have a purpose when I set out, something to achieve.
Wednesday 11th December - posted another 25, this time around 12 miles over an hour and an half.
Saturday 14th December - 11 miles
Sunday 15th December - We went to a football match! Lloyd got us tickets for the Wigan v Bolton match. I went with mixed feelings because Lloyd and Jaja support Bolton and Damian supports Wigan. It was a strange experience after watching many matches on terrestial televison over the years. We were among five thousand Bolton supporters and the noise was deafening! It hurt ones ears at times. Wigan won 3-2 after leading 2-0 at half time. Bolton got back to 2-2 but then Wigan scored again. We were at the north end and saw four of the goals, one was an overhead kick and two were penalties.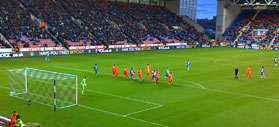 I think the picture above is just as Wigan were taking a free kick in the first half.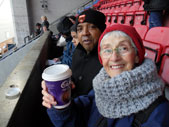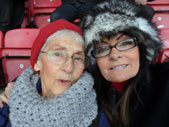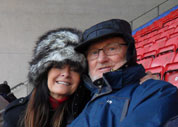 It was cold but we were well wrapped up.
The last footbal match I went to watch was with my Dad at Preston North End when they played Aston Villa on 24 April 1971 in Division 3! It was 0-0 draw and Aston Villa subsequently went on to win promotion to Division 2. It is even longer since Sue went to watch Luton with her Dad.
Tuesday 17th December - 16 miles
Thursday 19th December - 12 miles
Saturday 21st December - the winter solstice, at last we'll soon start tilting back to the sun.
Monday 23rd December -16 miles
Wednesday 25th December - We spent the day with Trudie, Lloyd and Jaja. In the evening we picked Damian up from his Mum's to stay with us for a couple of days.
Thursday 26th December - Today we, Suzie, Damian and I, spent the day with Alison and Paul at Briercliffe. After lunch we did a route march, led by Kathryn, a spritely 33 year old, round Briercliffe. Suzie stayed at home with Paul, Alison and Richard came. In the evening Judith and Steve joined us.
Friday 27th December - The three of us went to Gregory's for the Swarbrick family gathering. I took all the old photos a little presentation on the laptop. We took Damina back to his Mum's later in the evening.
Saturday 28th December - 11 miles
Tuesday 31st December - 11 miles and early to bed
January February March April May June July August September October November December